I haven't blogged much about our holidays. Much of this is because everyone in our household was fighting a nasty cold the two weeks before Christmas. Sadly, I think Jonah got it the worst. This put a huge kink in our plans for holiday and winter activities, as I have a strict rule that if the kid (or anyone else) has the sniffles, we do not go out and spread our germs!
We did manage to recover in time for a few fun activities though! Right before the cold hit, we took Jonah and Paddington to see Santa at Petco. The picture was $10, and that money went to a local animal shelter that my sister in law volunteers at. Toledo is notorious for the rate that they euthenize strays, so I feel that it is important to support shelters in the area that have a "no-kill" policy. Plus, it's fun to have a Santa picture that includes our beloved doggie!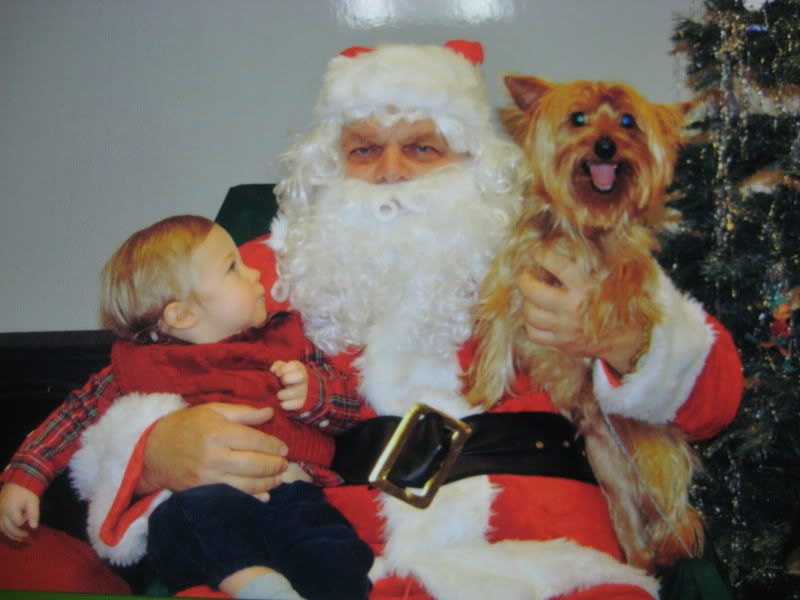 On Christmas Eve, it is a tradition in Daryl's family to go to dinner at the Toledo Club. The dinner is pretty formal, and so every family stops to get a picture taken in front of the main Christmas tree while they are wearing their dressy clothes.
When we got home, we took some portraits of Jonah in front of the tree, and read "How the Grinch Stole Christmas" before bedtime. Jonah got to open up his special "Christmas Eve" pajamas, and we took a couple pictures, but he didn't actually get to sleep in them because we've been having bed-wetting issues. We changed him back into them when he woke up in the AM, needing a fresh pair of jammies on. We are still trying to figure out why we are having this backslide in pottying. He was waking up completely dry.
I am going to save Christmas Morning for another blog post, because I have a bit more than a paragraph to say about it. So I will just skip ahead to the day after Christmas. We went to the Toledo Zoo for their "Lights Before Christmas" display. Nevermind that we went "after" christmas, I never really liked the name of the lights display, but it really is a fun thing to go and see. Jonah absolutely loves it. We happened to pick the warmest night of the week. All of the snow had melted that day, and we were able to enjoy being outside rather than freezing. Later that night, the temperatures dropped and it began snowing again, so we were really lucky that we had gone during that window of warmth!
The next day, all of our guests were put back onto their respective planes to the places they call home. It was a very busy holiday season, made even more stressful by the whole family falling ill. But it was also a lot of fun, and a good excuse to take a break from "real life" to enjoy our family and those who are closest to us. It is not over yet, though! We are having Christmas with my family this Friday (New Year's day!)